Wedding Officiant Zeke
Non-Denominational Ordained Minister

Traditional Weddeing Ceremonies,
Elopements and Renewal Wedding Vows
Ordained Wedding Minister for Hire
***
If you are looking for wedding ministers to perform a wedding ceremony in Kern County, give Wedding Officiant Zeke a call. I am a non-denominational wedding minister and I can officiate your wedding any day of the week.
***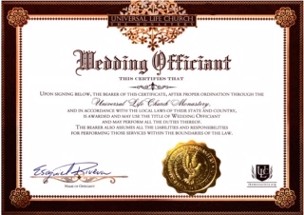 ***
Are you getting married or are wanting to get married soon? You don't have to travel to Las Vegas to get married and elope. You can hire me... I'm located locally here in Bakersfield California. Wedding planning can be very frustrating. Engaged couples often struggle to find an officiant that gets them. I am a Wedding Officiant for Bakersfield and surrounding towns here in Kern County that gets you.
I am flexible to perform any kind of wedding ceremony in any wedding location in and around Bakersfield; from a civil ceremony, a non religious wedding to a religious wedding as well as many ceremony additions to create a fully customized ceremony.
So if you're looking for "officiants near me" and you happen to want to get married in Bakersfield or somewhere locally, then you should call me.
Once I confirm date and time, I will email you a confirmation email.
I can use my own pre-written wedding vows or you can write your own wedding vows from scratch. I will perform any sort of wedding ceremony that you want. All I ask is that you let me know before the wedding ceremony.
If you are looking for wedding ministers to perform a wedding ceremony in Bakersfield or surrounding area in Kern County, give ZEKE RIVERA a call. I am a non-denominational wedding minister and I can officiate your wedding any time and any day of the week.
***
Couples looking for a Unique Wedding Theme. I have seen weddings from pop culture themes to nostalgia-filled affairs and l have covered a ton of creatively-themed weddings over the years. Here is a list of unique wedding ceremonies to consider.
Star Wars

Star Trek

The Walking Dead

Z Nation

The Hunger Games

Twilight

The Great Gatsby

Superheroes

Comic Con Themed Wedding

How the Grinch Stole Christmas

The Walking Dead

Game of Thrones

Cinderella

Sleeping Beauty

Alice in Wonderland

Snow White

Beauty and the Beast

Peter Pan

Sports: Football or Baseball

Wrestling

Western Cowboys

Zombies
***
Marriage License Witness Services:
I Can Also Provide A Witness For You To Sign Your
Marriage License For Additional Fee
$25.00
***
To secure your date a deposit and signed
Service Contract Agreement is required.
Wedding Package Includes:


• Personal planning session with the couple
• Unlimited email and phone consultation
• Wedding Procession layout and flow of service
• Customizing of ceremony options
• Pre-written vows, customizing of vows, unity symbols, readings, etc.
• Marriage ceremony within the City Limits of Bakersfield
• Finalization and filing of your marriage license

***Extra Fee to attend Wedding Rehearsal
***Extra Fee to a Travel Outside the City Limits of Bakersfield
***
I ALSO PROVIDE NOTARY SERVICES
I will travel to your home, where I'll notarize documents prior to getting married or the day of your wedding. Many couples do want certain documents notarized prior to getting married.

Real Estate Forms

Interspoual Transfer Deed

Living Trust Documents

Grant / Quit Claim / Trust Deeds

Insurance Documents

Common Law Contract Agreements

Cohabitation Contract Agreements

PreNuptial and PostNuptial Agreements

Domestic Asset Protection Trusts
***
Click Box for Wedding Checklist and
Wedding Procession Worksheets
***
I offer a FREE initial consultation; this allows you to determine if our services are what you are looking for in your wedding officiant. In most cases, all follow up questions can be addressed via email, phone or text to myself or to my associates. If an additional consultation is needed, I will meet with you to ensure your wedding ceremony is perfect.
***
IF I HAVE TO TRAVEL WITHIN THE CITY LIMITS OF BAKERSFIELD OR BEYOND THE CITY LIMITS OF BAKERSFIELD, THERE WILL A TRAVEL FEE CHARGE
ADDITIONAL FEE:
It is understandable that a wedding can be behind schedule at times. That is why I always give my couples an hour of my schedule time to conduct your wedding ceremony.
I do not want to be mean about it, but if your wedding does go beyond an half an hour after the wedding was suppose to start, you will be billed $30.00 and $15.00 for each additional 15 minutes thereafter for waiting.
(31-45 minutes) $30.00
(46-60 minutes) $45.00
(61-75 minutes) $60.00
(76-90 minutes) $75.00
***

Bakersfield Hospital Bedside
Wedding Ceremonies
We Are Ordained Ministers and
Non-Denominational Wedding Officiants:
Unfortunately, sometimes an accident or illness will speed up the wedding process. If you require someone to marry you and your love one, give me a call. We will travel to any hospital, nursing home or hospice facility in the Bakersfield area to marry the two of you. I'll travel to you and do the proper paperwork and notarize your signatures. And my wedding officiant will conduct a hospital bedside wedding and file the paperwork to the County Clerk's Office.
***
Want us to attend the Wedding Rehearsal?
I am perfectly happy to do Wedding Rehersals for our couples for an additional fee, but the vast majority of my clients choose to do the rehearsal themselves.
But a wedding rehearsal is deliberately focused on the details of who, what, when and where. In the few days leading up to your wedding your bridal party and immediate family will be filled with a mixture of excitement and confusion; excitement over the upcoming marriage, and confusion about a laundry list of logistical, last minute details. This commonly results in the bridal party being distracted and sometimes fuzzy about the details of their honored roles and duties. That's why you need a rehearsal, and this is where a seasoned wedding officiant is so helpful. We use the rehearsal time to build relationship with your bridal party. In a lighthearted way we will guide your party and help you focus on what everyone is to do. A well-rehearsed bridal party will help make your wedding ceremony everything you've dreamed it would be.
***
One of few places where I have performed weddings for couples: The Randall House Westchester Hall, Noriega House, Metro Galleries, Bakersfield Art Mesuem, Mill Creek Park, Hart Park, Riverlakes Park and at the Tehachapi Train Loop.
Please send me some basic information about your
wedding
and I'll send you a quote:
Brides Full Name-

Brides Cell Number-

Brides Home Address-

Brides Email Address-

Grooms Full Name-

Grooms Cell Number-

Grooms Home Address-

Grooms

Email Address-

Date of Wedding-

Time of Wedding-

Location of Wedding (City and Address: House, Park or Venue)-

Do you need Officiant to attend Rehearsal (If Yes: Time, Date, Location)-
***
I am an Ordained Minister and Non-Denominational Wedding Officiant:
I can perform civil and non-denominational wedding ceremonies. I can perform Traditional Wedding Ceremonies, Confidential Weddings, Same Sex Marriages and Wedding Ceremonies at Lerdo Kern County Jail. I can custom your ceremony to meet your needs. A Non-Denominational Minister could be a wonderful choice for your union. Quite often, a Non-Denominational minister is well versed in different faiths, and recognizes the importance of a truly spiritual union. I am more open-minded to other beliefs and I can be a valuable asset in planning your wedding.
California Marriage License, Registration and Ceremony Information
A range of customized ceremonies is offered, including but not limited to:
Civil and Spiritual Marriages

Confidential Wedding Ceremonies

Non-Denominational Ceremonies

Interfaith Wedding Ceremonies

Handfasting Wedding Ceremonies

Backyard Weddings

In Home Weddings

City or County Park Wedding Ceremonies

Pismo Beach, Avila Beach, Morro Bay or any Beach Weddings (Require Permits)

Hot Air Balloon Ceremonies

Disneyland Wedding Ceremonies

Place-of-Worship-Church Celebrations

2nd, 3rd or 4th Weddings

Weddings with Children involved

LGBT Wedding Ceremonies

Elopements and other Short-Notice Marriages
***
AVILA BEACH:
All wedding ceremonies held on Avila Beach require a permit be issued by the Port San Luis Harbor District.
Please call 805-595-5400.

PISMO BEACH WEDDINGS:
Planning a beach wedding in Pismo Beach, Ca here is some information you should know!
There is no Permit for a beach wedding in Pismo Beach, Ca however their are a few guidelines you must follow.
Below is information from the City Clerk in Pismo Beach:
To better serve our residents and visitors, I want to share this information with you so anyone of us can help and answer questions regarding having weddings on the beach.
Weddings on the beach are permitted with certain restrictions:
A permit is not required.

There is no fee for getting married on the beach.

Areas are available on a "first come first serve" basis.

The beach is public property, therefore no area can be reserved, roped or sectioned off.

Weddings are limited to just the ceremony. Receptions can take place at a hotel or hall.

Set up of chairs are allowed.

Guest are to be kept at a maximum of 50 guest.

No amplified music.
***
Wedding Scam Alert:
Are you planning a wedding ceremony? Watch out for scam artists. If anyone claims they can perform your wedding ceremony over the phone, hang up!
In California, such ceremonies are not legal.
Similarly, if anyone wants to sell you a marriage license, they're not being truthful. Marriage licenses must be obtained and purchased from the Kern County Clerks office or any County Clerks Office.
The Marriage License you obtain from the County Clerks Office can be used anywhere in California.
***
California Family Code Sections 420-425 CHAPTER 2. SOLEMNIZATION OF MARRIAGE FAMILY
CODE SECTION 420-425
420. (a) No particular form for the ceremony of marriage is required for solemnization of the marriage, but the parties shall declare, in the presence of the person solemnizing the marriage and necessary witnesses, that they take each other as Spouses.
***