Star Wars, Wedding Officiant Zeke - Bakersfield, Ca
Jedi Knight Master Zeke
Ordained Wedding Minister for Hire
***
Star Wars Day is celebrated on May 4th.
What a great day for a Star Wars Wedding.
You don't have to wait for May 4th to get married.
You can get married by a Jedi Knight
anytime of the year.
>>Click For On-Line Service Request Form<<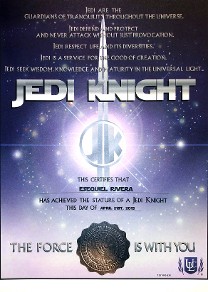 Star Wars is a cultural phenomenon that has stayed in the minds of the public for decades, with millions of fans around the world. It is no wonder, then, that some couples may choose to celebrate their special day with a Jedi wedding theme. In a galaxy not really far away, this can be achieved with careful planning.
"May The Force Be With You."
Feel free to be in your Star Wars Costumes and and bring your own Lightsabers for the complete Intergalactic Wedding experience.
Your Star Wars Wedding will be performed as a nondenominational wedding ceremony and it will be an official wedding ceremony.
"As a Jedi, it requires a profound commitment and an astute mind, as a Jedi is expected to obey a strict Code, which includes ideals such as rational thought, patience, and benevolence."
Fill out the On-Line Request Form or give me a call and I will make your wedding ceremony fun and unique.
You must have purchased your Wedding License from the County Clerk Office and must have it on you on the day of the wedding ceremony.
What Is Jediism?
Jediism is a new philosophy supporting the idea of one all-powerful life energy Force that connects all living things in the universe together. Only by balancing our self-awareness with unity awareness in the Force we can find ourselves and discover our meaning and purpose. Jediists believe we are all interconnected and one with the universal life Force.
INTELLIGENCE, CREATIVITY, SELF CONTROL and SUPERPOWER
***
Forms of payments accepted:
Cash (Sorry, I do not carry any money on me, if you expect change),
Business/Corporate Checks and
Major Credit Cards accepted
NO REFUNDS FOR SERVICES RENDERED AND COMPLETED WITHIN A TIMELY MANNER AND OR FOR ANY DEPOSITS PAID TO HOLD A DATE AND FOR TIME FOR ALL PROFESSIONAL SERVICES PROVIDED IN GOOD FAITH.